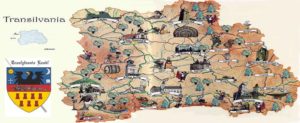 Transylvania Lands Cluster from Romania is proud holder of Bronze Label of the European Cluster Excellence Initiative and its main activities are related to creative and cultural sectors and tourism. Lonely Planet  situates Transylvania on the 1st place in the top  of the best EU regions to be visited in 2016  but  this appreciation needs  an adequate promotion  campaign online.
The purpose of the project proposal is to facilitate collaboration among EU cluster organisations in consortia on TIC applications for the tourism sector, to enhance cluster managers'skills for generating added-value TIC services for the SME's members in view to exploit synergies towards common activities and joint strategy development.
In view to stimulate the innovative activities, especially in SME's, Transylvania Lands Cluster  proposes  targeted training actions for cluster managers to identify areas for improvement, coaching and mentoring, Cluster Excellence benchmarking assessment, platforms for knowledge sharing and expertise and development of a comprehensive TIC strategy for tourism.
Transylvania (Erdély in Hungarian, German Siebenbürgen) is a historical and geographical region located in the Carpathian mountains of Romania. Between 1526 and 1699, it was an independent state, as the Principality of Transylvania. In this capacity he played an important role in War 30 years of the Protestant coalition. With the front anti-Ottoman imperial victories, Transylvania came under Habsburg administration, but retained formal statehood until 1867 was headed by appointed governors in Vienna.
Central Region 7 with the 4 counties that formed the Principality of Transylvania Medieval (Alba, Brașov, Bistrița Năsăud, Cluj, Covasna, Harghita, Hunedoara, Mureș, Sălaj, Sibiu) has a significant tourism potential and diversified, with several subdomains that enjoys an obvious advantage: mountain tourism, spa tourism, cultural tourism, historical tourism, rural tourism and agrotourism. Accommodation capacity in rural areas in the 10 counties stands at over 55% of the total number of accommodation in Romania.
Economic importance of tourism but remains at a very low level, both in the regions and nationally registered in recent years even a downward trend in the share of tourism in GDP. Thus, the share of tourism in regional gross value added decreased from 3.6% in 1998 to 2.3% in 2008, while the national share of tourism in gross value added fell in the same period, from 2 6% to 1.9% where it stands today (most of which foreign tourists came for business in 2014 in Romania spent 1.1 billion euros).
Initially ANTREC Alba Branch, Alba Transilvania ANTREC NGO today is the most important promoter of tourism in Transylvania. ANTREC Alba Transylvania initiated and promoted the National Rural Tourism Fair in Albac since 2005. Combining rustic charm and traditions with the natural attractions, agro-tourism is one of the forms of tourism that has seen a remarkable development after 1997 by ANTREC Alba Transylvania, being well represented in the Apuseni Mountains – Aries Valley High, – Garda de Sus, Scărișoara and Vadul Moților, Bistra and Sălciua in Trascău, Aiudului Valley – Rimetea commune and village Colţeşti – Europa Nostra 1999, Aiudului Gorges – village Izvoarele and Vălişoara, in Sebeş Mountains Căpâlna, Loman, Şugag and Poarta Raiului in Șureanu Mountains.
Developing a modern tourist industry, which uses an insufficiently exploited workforce and a great tourism potential in Medieval Transylvania counties, requires enhanced cooperation between NGOs, SMEs, local universities, trusts media etc.
The proposed formula for this purpose ANTREC Alba Transilvania is to establish a CLUSTER for the cultural, historical and religious tourism, rural tourism, agritourism and related services, in march 2014. Such CLUSTER will coagulate interests of much of medieval Transylvania, confirming the secular tradition of Alba Iulia major center for the development of Romania.
The association will operate on the basis of truth, courage, determination, loyalty, balance and willingness expressed by members and supporters in all their actions.